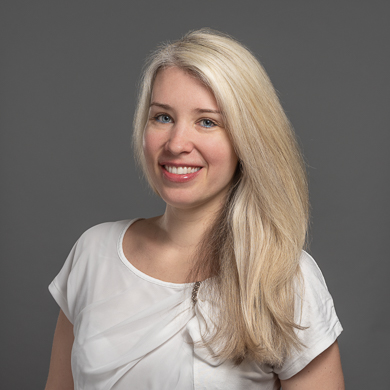 Ing. Michaela Blahová, Ph.D.
Department of Finance and Accounting
E-mail:
mblahova@utb.cz
TEL: +420 576 032 509
Office:
U2/405
Author identifiers
She is a senior lecturer of Corporate Finance (basic course) and Corporate Finance II (advanced course). Her primary areas of research are at the interface of corporate performance measurement with strategic management, business model design and contemporary challenges shaping corporate finance in the global business environment. She has been a leader/co-leader of various national and international research and educational projects supported by the European Commission (Horizon 2020, Erasmus Mundus, Tempus), Czech Science Foundation (GACR), Visegrad Fund, CEEPUS, etc.
---
Teaching
Consulting hours
Anytime upon prior agreement
---
Curriculum vitae
Education
2008 - 2013: Tomas Bata University in Zlín, Faculty of Management and Economics, Doctoral degree programme in Economic Policy and Administration (course: Finance) - in ENGLISH
2005 - 2007: Tomas Bata University in Zlín, Faculty of Management and Economics, Follow-Up Master's degree programme in Economic Policy and Administration (course: Finance) (Tomas Bata Foundation Prize for the best Master thesis written in English)
2002 - 2005: Tomas Bata University in Zlín, Faculty of Management and Economics, Bachelor's degree programme in Economics and Management (course: Management and Economics)
Internships and study stays
2015: LIUC Universita Cattaneo, Castellanza, Italy, international research internship
2015: Sophia University, Tokyo, Japan, international research internship
2015: Northumbria University, Newcastle, United Kingdom, lecturer within the Tempus IMPRESS project
2014: Sophia University, Tokyo, Japan, international research internship
2014: Northumbria University, Newcastle, United Kingdom, lecturer within the Tempus IMPRESS project
Process of employment
2019 - present: Tomas Bata University in Zlín, Rectorate, Vice-Rector for Internationalization
2015 - present: Tomas Bata University in Zlín, Faculty of Management and Economics, Department of Finance and Accounting, Senior Lecturer
2013 - 2015: Tomas Bata University in Zlín, Faculty of Management and Economics, Centre of Applied Economic Research, Post-Doctoral Researcher
2007 - 2013: Tomas Bata University in Zlín, Rectorate, International Office,  International Officer (2007-2011), Head of Office (2011-2013)
2004 - 2007: Mervin, s.r.o., Language school, translations, interpreting, teaching
2002 - 2007: Trexim Plus spol. s r.o. and MATREX spol. s r.o., translations, interpreting
Membership of bodies
American Journal of Management Science and Engineering, Editorial Board member since 2018
International Conference on Finance and Economics, Programme Committee member in 2016-2017
International Business Information Management Association, Programme Committee member in 2015-2017
---
Creative activities
Publications
Project outputs