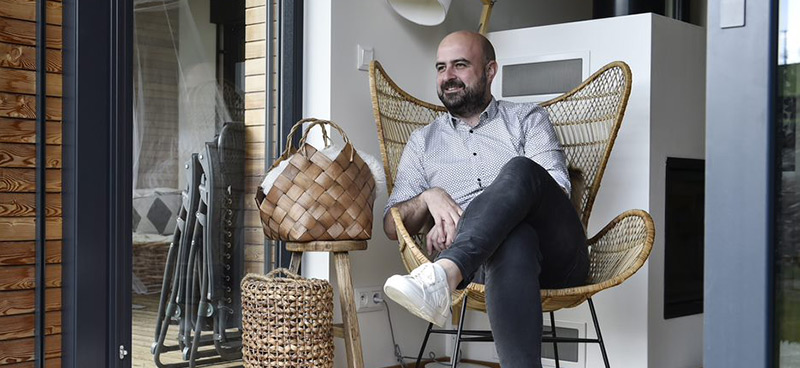 Creativity Has Huge Potential at Our Faculty, Says Pepa Kocourek, New Dean of the FMC
31. May 2021
A new Dean was appointed at the Faculty of Multimedia Communications in mid-April. His name is Mgr. Josef Kocourek, Ph.D., who goes by the name of Pepa. The new Dean has been focusing on brand building and on communication strategies in the long-term, and has been employed at the Faculty for over 15 years. In our interview, he presented us the Faculty, told us about his visions, his values… and also revealed his favourite food in the Refectory.
Will you tell us which words describe you best? 
That will surely be a "team player"!
What did you do during your first days in office?
The main priority after my arrival was to speak with the Heads of all FMC Studios, of the Department of Marketing Communications and of the Department of Theoretical Studies. I am happy to have met with everyone – it was a good step to take not only towards understanding the needs of the individual component parts of the Faculty, but also to making them understand my vision, which I want to develop at the Faculty.
And what kind of a vision is that? Which direction do you want the Faculty to take in the years to come? 
The Faculty's vision is to become a major "player" in the creative industries and strive to achieve more international success – we can succeed if we have a healthy working environment with open communication. For me personally, it is important to build the Faculty on several pillars, with one of them being interdisciplinary cooperation across disciplines, not only within the Faculty but across the University. Then we must also support the creation of multidisciplinary projects focusing on practical application, and educate graduates well prepared for the real world who will have only good memories of their alma mater.
Why did you decide to announce your candidacy for the post in January? 
I took a long time to consider my decision… and assess why I should or shouldn't do it. In the end, I was convinced that my candidacy was the right decision to take when I saw broad support from colleagues from various component parts of the Faculty; thus, I realized that they would stand by me, and we would be able to build an even better and stronger FMC together.
Which values are important to you?
Honesty is important to me, I hate all sorts of lying, and I try to raise my children to be honest. I really appreciate open communication, as I have already mentioned, and the pride as well – being proud of my work for the FMC and also of being a FMC graduate. Last but not least, I appreciate friendship – I try to be an open person listening to other people's opinions and treating them fairly.
What do you consider the unique feature of the Faculty of Multimedia Communications?
Definitely the interconnection between creative minds focusing on design and on audio-vision as well as on marketing communications. Such a combination of students and teachers at a single Faculty is unique. This gives us a specific know-how, which is appreciated not only by us, but also by the companies we cooperate with – and I would like to bring it closer to the general public. It is important for me to develop and support the Faculty's potential which is of benefit for cultural and creative industries.
How come that you joined academia?
It all had actually evolved over time – starting from the job as a salaried employee and, later on, as a Senior Lecturer, I ended up holding the post of the Head – first of the KOMAG Communication Agency and, three years ago, of the Department of Marketing Communications. I see it as a development of my personality – a colleague of mine once told me that my attitude as a team player is exactly what the Faculty needs. And I guess he was right.
Do you have your favourite food in the Refectory?
And not just one. Which one should I choose? I love poultry liver with rice. It is a speciality of the Refectory, they are really good at making this particular dish.
If Pepa Kocourek isn't at work, who is he?
A husband and a father of two! I used to play soccer a lot in my leisure time, but I stopped after a knee injury. I like jogging, gardening and do-it-yourself activities. Sounds like I'm an old geezer! Well, I guess that's the way it is. (laughter)
Is there something you want to say to students, to your colleagues, or to the public? 
As far as students are concerned, I firmly believe that they will have a great time studying here. And, if they have a problem, they should not hesitate to stop by – my door will be open for them all the time. For my colleagues, I would like to create pleasant working conditions, as I have already mentioned. And I would like to remind the people (not only those coming from Zlín) that the FMC is set to celebrate the 20th anniversary of its establishment next year, so there really is much to look forward to!
Preferences:
Notebook vs computer
Online learning x offline learning
Coffee x tea
Refectory x Restaurant
RIV (Information Register of R&D Results) x RUV (Register of Artistic Results) both! 😀
Soccer x ice hockey
Dog x cat (Kocourek = A little tomcat or a male kitten in Czech) – Always a cat! 😀