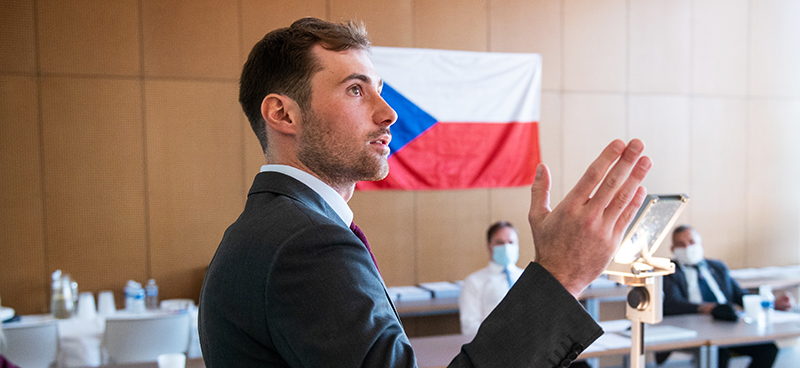 Final State Examinations at TBU in Zlín
8. June 2020
Last weeks, students of Tomas Bata University in Zlín took their final state examinations. In particular, at the Faculty of Technology, they managed to maintain the scheduled date for final state examinations. Nevertheless, they had to observe the hygienic measures imposed, namely the use of disinfection and the presence of a limited number of persons in a room.
"At the present time, members of the examination board and students do not have to wear face masks. A maximum of 15 persons are allowed to be present in a room and they have to maintain a 1.5-metre distance from each other. There won't be as much people in the exam rooms; we will do our best to ensure maximum security," described Lubomír Beníček, TBU Vice-Rector for Pedagogical Activities.
Some students have already passed the final state examination at the Faculty of Humanities (FHS). However, final state examination dates have been postponed to July and August at the other Faculties of TBU in Zlín due to the fact that, for example, students of the Faculty of Multimedia Communications (FMC) had to complete their Master's thesis projects in the relevant FMC studios that had been closed for them for more than one and a half months.
"Moreover, some of the students left for Slovakia, where they stayed during the lockdown period and were thus unable to proceed in their work," said Jana Dosoudilová, FMC Vice-Dean for Internal and External relations.
Also the youngest Faculty of Tomas Bata University in Zlín – the Faculty of Logistics and Crisis Management – had to postpone the final state examination dates. Students will have two examination dates, namely at the turn of July and at the turn of September.
"This is due to the fact that some students, during the period of coronavirus crisis, were not allowed to get to companies in which they conducted research for their Bachelor's and Master's theses and, therefore, were not able to complete them in time," said Zuzana Tučková, Dean of the FLCM, located in Uherské Hradiště.
The final state examination dates have been postponed also at the Faculty of Applied Informatics and at the Faculty of Management and Economics of TBU in Zlín.
Approximately 1,200 Bachelor's students and 800 follow-up Master's students are expected to complete their studies at Tomas Bata University in Zlín this year. Graduation ceremonies will be held at the University in the course of July and August. Also the entrance examination dates have been postponed to June and July, due to rescheduling of dates for secondary school leaving examinations.