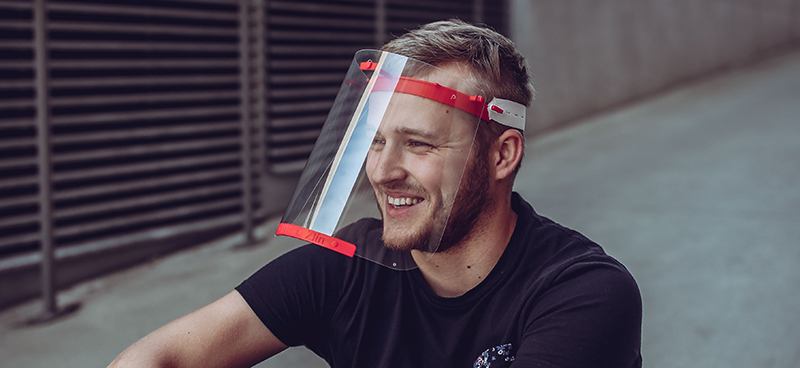 Manufacturing Protective Shields
Not just disinfection, face masks or handle attachments. In order to fight the Coronavirus, our University also began to manufacture protective shields – production was started by several component parts of TBU: Faculty of Applied Informatics, Faculty of Technology, Faculty of Multimedia Communications and Centre of Polymer Systems. The first few hundred shields produced using the 3D printing technology were tested by paramedics in Zlín, in selected schools and dental clinics.
For example, CEBIA-Tech, a research centre established at the Faculty of Applied Informatics, got involved in a nationwide event aimed at the production of protective equipment and entitled "The Whole Czechia Is Printing". "We have decided to respond to the constant demand for medical supplies, which are, at present, still a scarce commodity in many medical facilities, nursing homes and other institutions," explains Assoc. Prof. Milan Adámek, Dean of the Faculty, and continues: "The biggest problem for us was to obtain the seemingly simplest part, the elastic band used to fix the protective part onto the head. Dozens of meters we had purchased were dwindling rapidly. However, also in this case, there was an incredible gesture of solidarity. Our thanks go to the staff of the Faculty of Applied Informatics, who have provided these scarce goods from their domestic reserves."
Protective shields are also produced at the Faculty of Technology. Financial resources spent on the production of these sheets were gained from the money raised for the tickets to the Rag Day, a student festival, which did not take place this year due to the Coronavirus pandemic. "I am very happy to see that the university community is involved in the project, and that we have managed to collect a fair amount," says Michal Staněk from the Department of Production Engineering.