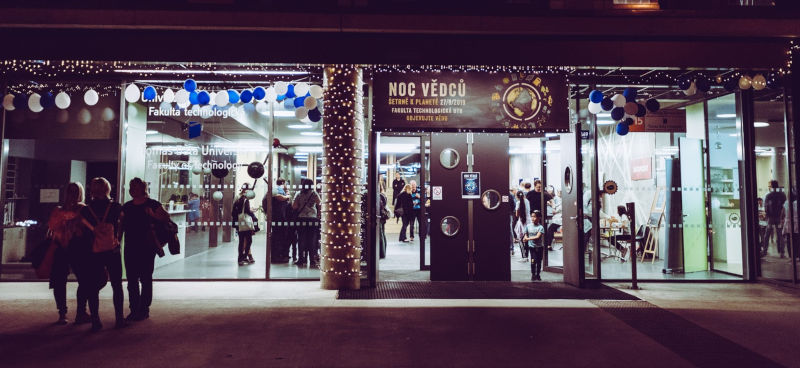 Researchers' Night to Be Held at TBU. The Theme is Time.
21. September 2021
This week, on Friday, 24 September 2021, a popular and a very much liked event – Researchers' Night will be held in Zlín. This year the theme is TIME. Entry to the science festival, traditionally organized in Zlín by Tomas Bata University, is free. The University invites attendees to the premises of the Laboratory Centre of the Faculty of Technology and to the Centre of Polymer Systems, where a busy programme featuring lectures, workshops and experiments will be prepared. This year, the programme will be held also in the Zlín Chateau for the first time.
Visitors to the Laboratory Centre of the Faculty of Technology will have the opportunity to try various experiments, virtual reality, play games, watch movies produced by students of the Audiovision Studio of the Faculty of Multimedia Communications or practise their English with the Faculty of Humanities. The Science Café lecture series prepared by scientists from Tomas Bata University will acquaint the participants from among the general public with the world of microbes, chemistry and beer.
Visitors to the Zlín Chateau will enjoy games prepared by the Faculty of Management and Economics; the Eurocentrum will have prepared quizzes and competitions, and, last but not least, the Experimentárium in Otrokovice will show the activities of young scientists. An arts laboratory which will take the form of an exhibition entitled "DIPLOMKY" and showing projects by graduates of the Faculty of Multimedia Communications will also open.
The Centre of Polymer Systems will offer guided tours at 4pm, 5pm and 6pm and an interesting programme for the visitors, who will have the chance to visit not only the laboratories, but also the technology hall.
The Observatory Zlín will also open its door to visitors, and will offer lectures on time and astronomy from 6pm to 10pm.
Outside the town of Zlín, the Faculty of Logistics and Crisis Management in Uherské Hradiště has prepared a programme as well. Between 4pm and 8pm, attendees may look forward to chemical experiments, virtual reality, planetarium, flight simulator; they make take part in a number of entertaining games and competitions, as well as see the work of police and firefighters from up close.
A detailed programme is available at www.nocvedcu.cz. Experience the event at first hand between 4pm and 10pm on Friday, 24 September 2021.