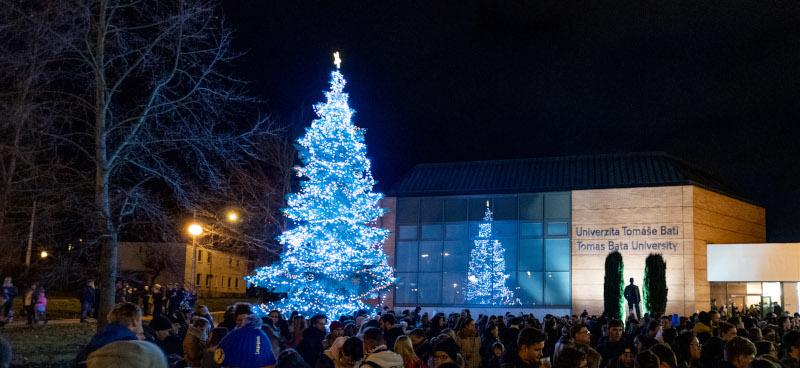 TBU Christmas Tree Has Been Lighted Up
9. December 2019
The TBU Christmas Tree was lighted up on 3 December 2019 in front of the Faculty of Management and Economics in Mostní Street in Zlín.
"The tree was planted there 17 years ago and, since then, TBU students and staff with their children have been gathering there during the pre-Christmas period every year," said Prof. Sedlařík, TBU Rector, and wished everyone a Merry Christmas. The event was organized by the University in cooperation with the TBU Student Union as usual.
The event was enjoyed particularly by children, who had the opportunity to participate in creative workshops, decorate gingerbread cookies, write a letter to "Ježíšek" or have a photo with St. Nicholas taken. They were also given small present by St. Nicholas accompanied by angels and devils. Swing songs and songs from famous films and musicals were performed by the Crowses band made up from students of the Primary School of Arts Štefánikova Zlín. Towards the end of the evening, attendees to the event watched the fairy tale movie "Charlie and the Chocolate Factory", and an afterparty show was held for students.
Enjoy the photo gallery below