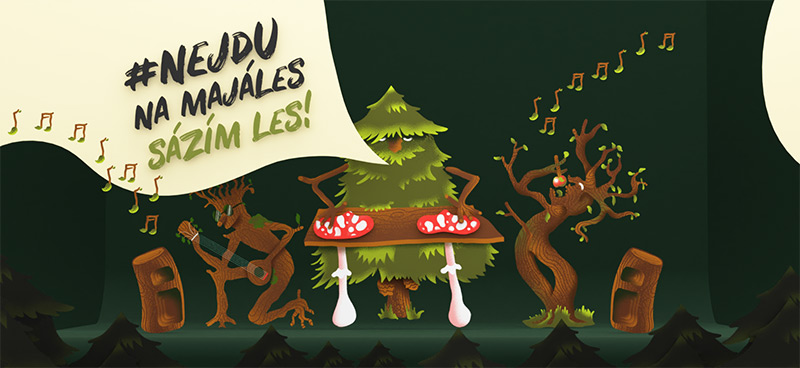 TBU Rag Day 2021 Is Betting on the Future
10. May 2021
Unfortunately, this year again, the traditional popular student event called the Rag Day and organized by the non-profit organization of Student Union (SU) together with the University will not take place due to the coronavirus pandemic. However, despite the unfavourable situation, the students decided to support a good cause.
They launched a fundraising campaign called "Not Going to Rag Day" ("Nejdu na Majáles"); the money raised will be spent on the planting of a new tree alley in the town of Napajedla in the Zlín Region this year. The campaign will continue until the end of May.
"We are sorry that the Rag Day event will not take place in the traditional form, but we do not want to just sit around doing nothing. We have decided to do something that will make the world around us a little nicer again," explains Alice Hanke, a student and the event manager.
The Student Union is organizing the event together with the Environmental Partnership Foundation (Nadace Partnerství), a partner of the whole campaign, and the town of Napajedla, where the alley will be planted in the autumn. The general public can also join the fundraising campaign, and that on the web portal www.majales.sebou.cz, where people can buy a tree and, thus, support the planting.
"Since the Rag Day brings people together, a group of them can also buy a tree and have it marked with a nametag reminding us all that, together, everything can be done," say the organizers of the event.
"It has now been the second academic year significantly affected by the pandemic, students hardly meet, and I'm not happy about it. Therefore, I am pleased that the students still hold together during these moments and try to improve the environment in this way. Many thanks to all of them," said Prof. Vladimír Sedlařík, Rector of the University.
More information can also be found on the social networking sites of the Student Union.
The TBU Student Union is a non-profit organization established in 2005. It associates university students as a team of enthusiasts who have exchanged their free time for improving the free time of others. Students participate in various projects that enrich the lives not only of students but also of the general public living in the town of Zlín. The organization runs projects such as the Freshmen Welcome Party or the AntiBall (Antiples). Together with the University, they organize the Rag Day, International Student Day or the TBU Gala Ball.