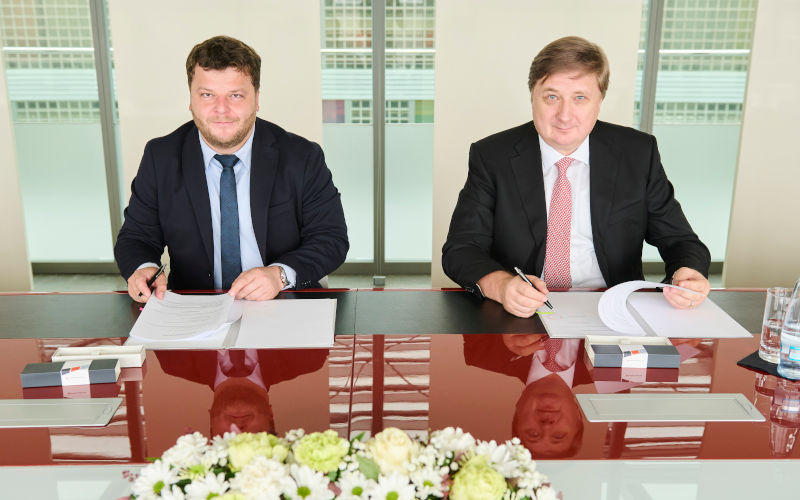 Trinity Bank Fund to Support Talented Students at TBU
23. September 2021
The Trinity Bank Talent Fund has been set up by Tomas Bata University in Zlín and the Trinity Bank to support talented students. The contract has been signed by Prof. Vladimír Sedlařík, Rector of TBU, and Radomír Lapčík, founder of the Trinity Bank.
Radomír Lapčík, a huge Zlín patriot, has decided to donate a significant amount of money to Tomas Bata University in Zlín in order to support the development of talented students and postdocs. The newly formed Trinity Bank Talent Fund will support projects aimed at the improvement of knowledge and competencies, and upgrade of skills of students of the University as well as of partner secondary schools in the area of progressive technology,   financial and digital literacy.
"We are delighted to receive such support from the Trinity Bank and we will do our best to fulfil the mission of the newly formed Fund. This meaningful form of support for students is a significant motivation factor which has a positive impact on the development of the University, the town and the whole region," said Prof. Vladimír Sedlařík, Rector of TBU.
"I greatly appreciate the fact that I experienced the establishment of Tomas Bata University twenty years ago. So I am all the more pleased to see the success and growth TBU has experienced over the years, and that TBU has become an establishment with a global perspective. As a huge Zlín patriot, I am not only a great fan of the University, but I am also honoured to contribute to its further development with this sponsorship gift. By extending the partnership, I am thus building on the existing cooperation between Tomas Bata University and the Trinity Bank, and I believe that both the academic community and the general public will benefit from our partnership," said Radomír Lapčík, founder of the Trinity Bank.
The money from the Fund will be also used to support research projects implemented by students and postdoctoral employees, development of their team and interfaculty cooperation in order to make the most out of the interdisciplinary orientation of the TBU Faculties. Teachers focusing on work with talented students and on the development of these activities will also be supported within the Fund.
"We thank the Trinity Bank very much and we hope that this act will inspire other institutions which care about the development of our region," said Prof. Vladimír Sedlařík.