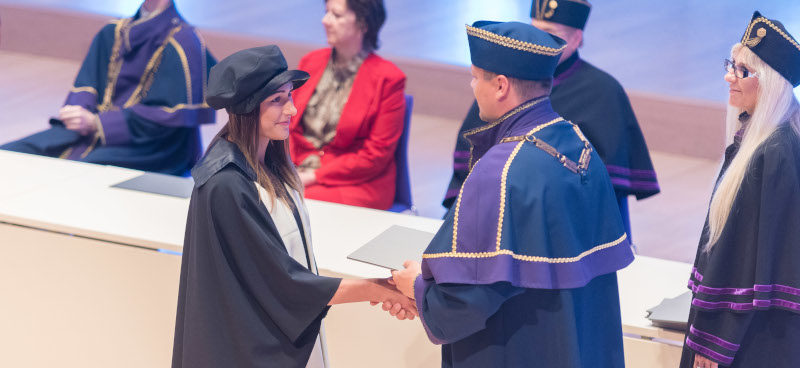 We Are the Top Czech University in Business and Economics
Those looking for the best Czech school in business and economics will be best served at Tomas Bata University in Zlín (TBU). In the rankings assessing the quality of universities in business and economics subjects published by the renowned UK company Times Higher Education in October of this year, the Zlín-based university was ranked top among Czech universities. In the global comparison, TBU occupies the rank 401-500. Apart from TBU, just six other Czech higher education institutions are included in the Rankings, with all of them being ranked 500 and below.
Economics-oriented degree courses offered at TBU are taught at the Faculty of Management and Economics. The Faculty cooperates with a number of higher education institutions all around the world. Its students can take a wide range of excellent development opportunities during their studies. For example, they can gain a degree at the FaME partner institution – the British University of Huddersfield; during their Master's studies they can complete the Firms and Competitiveness course that has been taught there for several years in cooperation with the Harvard Business School in Boston, USA. The Faculty also organizes a specialized programme intended for talented students and puts in a great deal of effort to actively develop their managerial and practical competences, focusing particularly on interconnection with business and industry. Within the project, students participate in internships in companies and have the opportunity to meet managers of the companies during lectures. With respect to the fact that TBU puts an increased emphasis on its image of an entrepreneurial university, the Faculty offers a reputable course entitled 'Business Academy' that aims to improve students' skills in order to help them gain financial independence and encourage them to start their own business. The Bata Olympiad in Management intended for secondary school students is annually organized at the Faculty. The Faculty offers education for people from business and industry, for example through the Bata School of Management project. Moreover, the Faculty collaborates on a number of projects implemented in cooperation with prestigious institutions such as the Anglia Ruskin University Cambridge, with the project being funded by the Horizon 2020, etc.
This year, TBU has earned some success in international competition already. In June, TBU was included among the top forty institutions in the Times Higher Education rankings featuring universities established after 2000.
To view the 2019 Times Higher Education World University Rankings assessing the quality of universities in business and economics subjects, please refer to: World University Rankings 2019 by subject: business and economics.