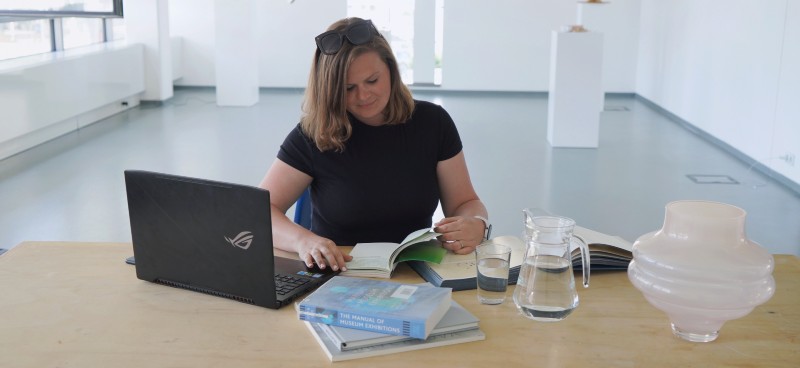 From Zlín to US University Galleries
1. July 2021
Eva Gartnerová from the Faculty of Multimedia Communications won the prestigious Fulbright Scholarship. Thanks to the scholarship, she will have the opportunity to travel to the United States of America in September. During a period of six months, she will be doing research in the local university galleries.
Eva Gartnerová teaches course units related to cultural management and intercultural projects at the Department of Marketing Communications, and is the Head of the Communication Agency. She is involved in many international projects. Last year, she obtained her PhD degree at the Faculty of Multimedia Communications; the topic of her doctoral thesis was university galleries. Similar research now awaits her in the United States.
"I will be doing my research in Wichita, Kansas, at the Ulrich Museum of Art. That will be the main centre of my activities. But I plan to visit other university museums and galleries in the US. I want to go to Oklahoma, Chicago, but and also to New York, so hopefully everything will go according to plan," says Eva Gartnerová.
In her research, Eva Gartnerová focuses on university galleries and museums in relation to the field of cultural management; she focuses specifically on the topic of work with the audience.
"So in the US, I will be mapping the manner how university galleries and museums work with their audiences, how they create programmes, how they communicate them, how many people participate in it, how time-consuming and costly it is. At the same time, I would also like to focus on the accessibility of museums and galleries for audiences with various special needs," says Eva Gartnerová.
It is very difficult to win a Fulbright scholarship. Eva Gartnerová needed nine months to achieve her goal. But her efforts have been rewarded, and she will be heading overseas in just a few months.
"I am looking forward to new cultural shocks, to a different approach to things, to inspiration and enrichment, and, above all, to the high quality and level of American cultural organizations. I am also looking forward to see Wichita, which is supposedly full of alternative culture, underground concerts and exhibitions. I like to live in new cities and in a completely different environment for a long time. It always enriches me and gives me a lot of energy," concludes Eva.
The prestigious Fulbright scholarship programs funded by the Czech and American governments offer Czech citizens the opportunity to study, conduct research or teach in the USA. Czech educational and research institutions are then enabled to recruit a teacher or a researcher from the USA. Each year, the Commission awards 10-15 scholarships.