TBU Wireless Network Guide
REGISTRATION
In all buildings of the TBU, you can connect to a wireless network with the SSID eduroam. In order to use the eduroam wireless network, you must first register.
In order to register, please complete the following form. Please complete the form carefully. As soon as you submit the form, you will receive the following username: login@utb.cz (where login stands for your username).
CONFIGURING WIRELESS NETWORK
The following applies to connecting to eduroam from Windows 7/Windows Vista. The connection dialogues for Windows XP may look different; however, the individual settings are identical.
Open Control Panel > Network and Sharing Center.
Click Manage wireless networks.
If the eduroam network has already been added automatically, REMOVE IT.
Click Add.
Click Manually manage a network profile.
Provide the following information:
Network name: eduroam
Security type: WPA-Enterprise
Encryption type: TKIP
UNCHECK Start this connection automatically
CHECK Connect even if the network is not broadcasting
Click Next.
Click Change connection settings.
On the Connection tab:
CHECK Connect automatically when this network is in range
UNCHECK Connect to a more preferred network if available
CHECK Connect even if the network is not broadcasting
The Security tab should read as follows:
Security type: WPA-Enterprise
Encryption type: TKIP
Choose a network authentication method: Microsoft: Protected EAP (PEAP)
CHECK Cache user information for subsequent connections to this network
Click Settings…
UNCHECK Validate server certificate.
Authentication method should read: Secured password (EA-MSCHAP v2).
Click Configure…
UNCHECK Automatically use my Windows logon name and password (and domain if any).
Click OK three times to close all currently open configuration windows.
A balloon message will appear in the right-hand bottom corner of the screen, informing you that "Additional information is required to connect to eduroam".
Click the balloon message. A window titled Enter Credentials will appear.
Enter your username (e. g. j_doe@utb.cz) and the password you chose when registering. Leave the Logon Domain field (Vista/WinXP) empty.
If the Set Network Location window appears after you successfully connect to eduroam, select Public network.
Instruction videos for setting up particular operating systems
You can configure your eduroam connection using eduroam CAT application.
Documents (in Czech only)
Coverage and accessibility
The wireless SSID eduroam network is accessible in the following buildings:
Building U1 (FT)
Building U2 (FaME)
Building U3 (FT)
Building U4 (FMC)
Building U5 (FAI)
Building U6 (Hall Antonínova)
Building U7 (Hall Štefánikova)
Building U10 (FHS)
Building U11 (UNI)
Building U12 (Hall T.G.Masaryka)
Building U13 (Rectorate, Library)
Building U14 (FHS)
Building U15 (LCFT)
Building U16 (FMC)
Building U17 (CPS)
Building U18 (FHS)
Building UH1 (FLCM)
Building UH2 (FLCM)
Building UH4 (Hall UH)
Building UH5 (Hall UH)
Areas covered by Wi-Fi eduroam network are marked with the following pictogram at TBU: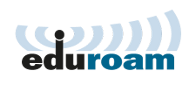 Contact Wi-Fi administrators of the TBU network
If you have any problem with the connection to the Wi-Fi eduroam network, please do not hesitate to contact local administrators of the computer network of the relevant faculty or the Information Technology Centre, Computer Networks, building U13, room 219.
Contact us: wifi@utb.cz