TBU eduroam Wireless Network
Setting up a password to connect to the eduroam network
For security reasons, to access the eduroam network it is necessary to use a different password than the password you use for logging in to the STAG system.
You will not be able to log in to the eduroam network without completed registration.
Setting up your device
The tool is available for most types of devices and operating systems.
Enter the username in the following form: login@utb.cz
Rules governing the operation
The rules governing the operation of the wireless network are specified in the Rector's Directive No. 4/2016 and the Roaming Policy of the eduroam network.
Technical equipment needed
Devices (e.g. PC, notebook, tablet, telephone) with a 2.4 or 5 GHz WiFi adapter supporting the IEEE 802.11b/g/n/ac standards. The supported operating systems are Windows 8.1, Windows 10, GNU/Linux, macOS, Apple iOS, Android.
Manual configuration of wireless connection
If the automatic connection configuration fails or if you want to set up connection manually, please use these configuration parameters:
Name of the network (SSID): eduroam
Security and encryption type: WPA2 / AES
Choose a network authentication method: the PEAP protocol (Protected EAP)
Authentication method: EAP – MSCHAP v2
Validate server certificate
Set up authentication to radius1.utb.cz
About the eduroam network
The wireless eduroam network is available in all TBU buildings.
More detailed information about the network is available at https://www.eduroam.cz.
Network coverage and accessibility
The wireless eduroam network is available in all TBU buildings. Just tap on the name "eduroam" to connect your device to the network.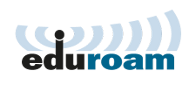 Contact Wi-Fi administrators of the TBU network
If you have any problem with the connection to the Wi-Fi eduroam network, please do not hesitate to contact local administrators of the computer network of the relevant Faculty or the Information Technology Centre, Computer Networks, building U13, room 219.
Contact us: wifi@utb.cz