ESN Zlín
ESN Zlín (formerly Buddy System Zlín) is a team of enthusiastic buddy students from all TBU Faculties who in their free time take care of international students studying at Tomas Bata University in Zlín. They voluntarily organize trips, excursions, and other cultural and entertaining events for their colleagues from abroad. The events are aimed at making the foreigners' stay in the Czech Republic and Zlín enjoyable.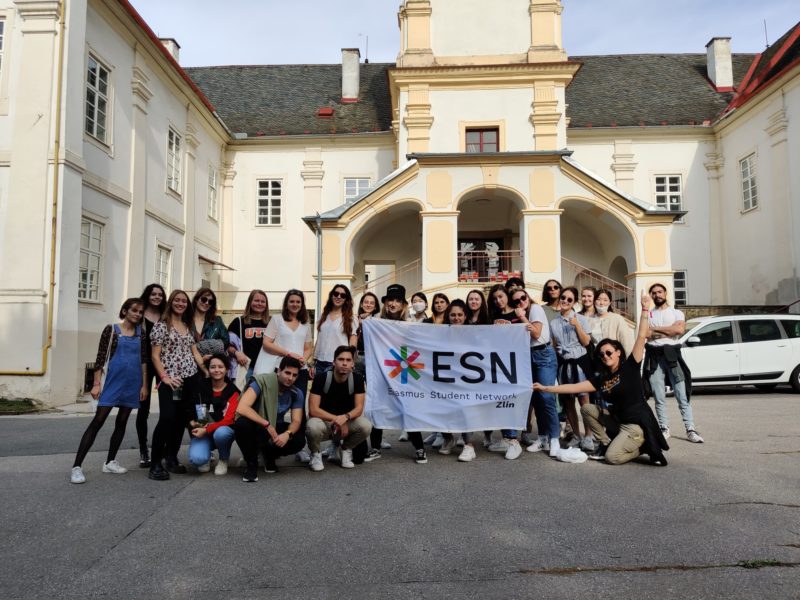 So-called "buddies" will help you deal with many issues on your way here and will contribute to making your stay at TBU an unforgettable experience. The first and most important task of each buddy student is to contact his/her international student before the student's arrival and help him/her to plan the journey to Zlín. After the student's arrival, it is necessary to pick him/her up at the station in Zlín (Pick-Up service) and accompany the student to his booked accommodation (usually Halls of Residence). Of course, fun is the other part of their lovely mission.
Welcome Week
Your stay in Zlín starts with Welcome Week. It is the first week of the semester during which at least one party or social activity per day is held. By attending these events and taking part in the activities you can easily get acquainted with other international students and, of course, find your way around Zlín and the University.
Orientation Walk
ESN also organizes a tour around the town which highlights the most important and interesting places in Zlín. After attending the event, you will know where to go for a meal or drink, where to party, relax or go shopping for local products.
Help Twice
An event during which students can buy very cheap utensils donated by international students who, after completion of their studies, left Zlín.
Trips & Events
There are several destinations worth visiting, such as Krakow, South Bohemia, the Tatra Mountains, Luhačovice, Macocha, or Southern Moravia. Students from abroad are also offered the opportunity to attend special international events such as Karaoke Night, Country Presentations, and other social events.
Detailed information about the ESN Zlín and the activities of buddy students is available on the website.